It's no secret that AnyOption is essentially a standard in the industry for many fresh binary options brokers to emulate. Many trading tools are waiting to be used, and new trading options and trading assets are made available to trade each day. AnyOption is decent on returns, with an average return of around 71%.
Launched in late 2008, AnyOption rightfully claims the title of the first true pioneer in the Binary Options industry. AnyOption is one of first companies who saw the advantage of trading binary options and seized the opportunity with both hands. AnyOption team, after many years of experience in risk management and options trading, created the very first binary options fully browser-based platform for binary options trading. Being the first and most unique platform, AnyOption's trading tool was the catalyst for many other similar platforms, yet still remains quite distinguished from the others.
Anyoption Review Basic Information
Website Address: http://www.anyoption.com/
Company Launched: February 2009 (one of the original dozen brokers)
Accepts US Traders: Not At This Time
Anyoption Minimum Deposit: $200 (EUR/GBP)
Contract Types: High/Low, Binary 0-100, Option+, One-Touch, and "Special"
Deposit Bonus: None (which means no account restrictions though)
Demo Account: No Demo Account Available
Trading Platform Technology: Proprietary Anyoption Platform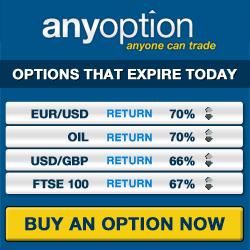 Platform Overview
As a matter of record, one of our most recommended binary options trading platforms, SpotOption, is based on the AnyOption platform. The main idea behind those two innovate platforms is the simplicity and user-friendliness. Unlike most other new brokers, AnyOption decided to remain loyal to the traditional trading, much more conservative the modern brokers. Instead of creating new ways to trade (Range options, Boundary options, etc), AnyOption invested its resources in order to develop additional trading tools such as the Option+, a great trading tool that offers investors the option to delay or close the expiry time before the actual closing time after purchasing an asset.
The trading system itself is very simple; a trader can view up to 4 assets including all needed information at a time with a simple click. Additional market news feed is located just below the asset tabs.  AnyOption also provides its customers with a profit line, a simple but very efficient tool to keep track of purchased assets. Another way of keeping track of assets is by registering to the SMS service and AnyOption will send you a text before or after the expiry time. While the binary options trading industry is still in its early days, and as much as we expect more developments in this growing industry, it is sometimes better to stick to classic brokers such as AnyOption in order to avoid scams or simply lousy brokers.
AnyOption uses a web-based platform that was custom-built from to fill the needs from their client base.  In other words, no other broker is able to use this exact trading platform, making AnyOption unique from it's competitors.
The user interface is very clean, and simple enough that even beginner traders can navigate the platform easily.  There are tabs at the top of the platform interface that allow you to easily switch between the various trade types they offer.  After clicking on any of the trade types, you'll see the available assets to trade within that trade type, as well as information such as the market price, payouts, expiry time, and a graph showing the market movements on that asset.
The platform is available in 9 different languages to better serve the needs of international traders that aren't native English speakers.
AnyOption has also created a mobile application to allow you to trade binary options directly from your smartphone.  Right now, they have applications for Iphones, Androids, and tablets.  These applications are free, and allow you to trade options from anywhere in the world, as long as there's an internet connection.
AnyOption Bonus
AnyOption don't usually offer Bonus cash to all customers. The Bonuses are given by AnyOption sales teams on a case by case basis. All bonuses are negotiable, bonus wager is varies according to the specific deal set with the client. The client must fulfill the agreed wager to be entitled for the full sum of the bonus. I recommend traders to start with low bonus. Traders that will have problems fulfilling the wager requirements will be able to withdraw , But AnyOption will reduce the bonus from the profits.
AnyOption Withdrawal
Most sites they will tell you how to deposit. On binaryoptionsthatsuck.com we are not worried about it, here the most important part we care about which could also be seen as the most important thing in binary options – Withdrawing your profits. Brokers don't usually cause problems depositing money, but some binary Options brokers will cause problems withdrawing it. Last, AnyOption don't a maximum withdrawal like some brokers do, the withdrawal will be available via the same method used for depositing.
AnyOption Extras
Some traders are looking for the extras in each broker; here at binaryoptionsthatsuck.com we try to think different. This section is about what's different in AnyOption, what makes AnyOption different then other brokers.
The Extra's that we liked the most in AnyOption are the:
Unique trading platform
Live quotes from Reuters.
Up to 25% Refund.
Great trading mobile app
1-100 Options
Show Off!
Trade Types
AnyOption has 5 different trade types that are currently available inside their platform.  These trade types are:
High/Low
Option+
Binary 0-100
One-Touch
BitCoin
What Is Binary 0-100?
You may have never heard of Binary 0-100.  That's because AnyOption is the only platform that has it.  The way it works is that you get to choose from a list of possible events, and then predict whether or not that event will come true or not.  For example, one of the available events may be "The Dow Jones will be above 15,888 at 10:12 AM".    Basically, the event will tell you that a certain asset will be higher than a certain price by a certain hour.   Then you select BUY if you think the event will happen, or select CALL if you believe the event won't happen.
The Binary 0-100 trade type is one of the most exciting new features within the Anyoption platform.  It's very unique because the real-time movement of the asset directly influences the payout on the option.  You have complete control over your entry and exit points, giving you the ability to sell the option (and take your profit) well before the expiry time.  And the best part is that the payouts can reach up to 1,000% on some scenarios.  Good luck finding a broker that comes anywhere close to that high of a profit.
Payouts and Return Rates
AnyOption has a unique payout scheme that allows you to have great control over your profit and risk.  Your typical high/low trades are set with a 70% payout for winning trades, with a built-in 15% return on losing trades.  But, you have the option of increasing your payout and lowering your refund rate, or vice versa.  So your normalized payout is still about 85%, which is in line with industry standards.  But at least with AnyOption, you have the choice of managing your risk and reward to fit your needs.
AnyOption also has high-yield trades with the Binary 0-100 and One-Touch.  With the Binary 0-100 trade, you can reach up to a 1,000% payout.  With the One-Touch option, you can earn as high as 360% profit.
Assets
The asset index for AnyOption is pretty impressive with over 73 stocks, 28 Indices, 9 currencies, and 4 commodities.  This gives you a wide range of options, when deciding which assets you want to trade with.
Trading Tools
While we already covered the different trade types available within the AnyOption platform, there are still a few other features that you may find attractive.
Trends –  This feature of AnyOption allows you to see the percentage of traders that have selected Call or Put on a specific binary option.  This feature helps you know if you're on the same page with other investors.
Option+ –  With this feature, you can actually sell your binary option back to Anyoption before the expiry time.  So you can lock-in your profit if you have a strong position, or sell your option early to reduce the risk of losing the trade and your investment.
Live Page –  This is a feature that allows you to see the actual investments from other binary option traders around the world, in real time.  This stream of data shows info such as trends, who's investing on which options, how many call or put options traders are using, and much more.  This is a great feature that can help give you insight into what's currently working.
Roll Forward – This feature of Anyoption platform allows traders to postpone the expiry time of their asset to the next closest expiry time.  This feature costs a little extra money, but is a nice way to potentially turn a losing trade into a profitable one.
How To Open An Account And Start Trading
Here's the steps you need to take to open an account and start trading with AnyOption.
Click Here To Visit Their Web Site (link opens in new window)
Click on "Open Account" at the top of page, and fill in your account information.
Make a minimum deposit of $200 in the currency of your choice.
Start trading.
You can open an account for free and take a look around.  But you must make the minimum deposit before you can start trading with their platform.
Advantages
There's a lot to like about AnyOption.  Here's some of the biggest advantages of using this trading platform.
Complete control over your profit and refund rate for flexible trading strategies (up to 25% refund rate on losing trades).
You have the ability to close your trade early and lock-in your profit before the expiry time is reached.
Platform is easy enough to use for beginners and has enough features and flexibility for more experienced investors.
Anyoption is fully licensed and regulated by the CySEC, the FCA, and the ACP Banque de France guarantee (AMF)
The Binary 0-100 trade type is an exciting new way to trade with the ability to buy and sell at any time during the trade with profits as high as 1,000%.
Get access to real-time data showing what other traders are investing in and spot trends to help you make the best decisions.
Trade binary options directly from your smart phone with their mobile application.
Disadvantages
AnyOption doesn't accept traders from the United States.
No first-time deposit bonuses are being offered at the moment.
The Verdict
AnyOption has a lot of things to like.  The most important being that their company is currently licensed and regulated by the CySEC.  One of the biggest advantages over other platforms is the ability to have complete control over your profit and risk, which makes it simple to employ a trading strategy that fits your style.  The platform itself is fun and easy to use, and has a lot of great trading tools to help users have the best possible experience.  Overall, there's not a lot of negative that we can say about AnyOption, other than the fact that they don't accept U.S. traders and don't offer a demo account or first-time deposit bonuses.
Overall Any Option Review Rating = 9/10 = Binary Bosses!