BeeOptions is one of the newer brokers to the binary options industry, and has gained a lot of attention lately among traders.  This company is based in London and is operated by a company known as UKTVM Ltd.  Their aim is to give traders of any experience level an intuitive platform that makes trading binary options as simple as possible.  In this review, I'll cover everything you need to know about BeeOptions to help you decide if this trading platform is right for you.
Banc de Binary Review Basic Information
Official Website: http://www.beeoptions.com
Officially Launched: Early 2012
Account Currencies: USD, EUR, GBP
Minimum Deposit: $150
Mobile Platform: Yes
Demo Account: No – For Depositing Customers Only
Accepts US Clients: No – No US or Israel
Deposit Bonus: Yes – Up To 25%
BDB Review Rating: 7/10 – Good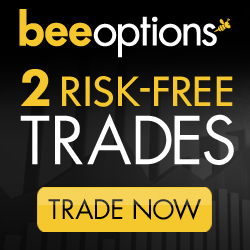 Platform Overview
BeeOptions uses the popular SpotOption technology to run their trading platform.  This is the preferred choice for many traders because it has a variety of trade types to choose from and the user interface is very clean and easy to navigate.  The platform is entirely web-based, and there's no need to download any type of software or anything like that.
Inside the platform, there are several tabs at the top of the screen that allow you to quickly navigate through the different trade types that they offer.  Under each main tab, there's a sub-menu to help you navigate through the various asset classes (stocks, commodities, currencies, indices) that are available for that particular trade type.
If you click on an asset, it will show you all the information you need including the expiry time, the payout, and the current market price.  To start a trade, you just simply enter your investment amount and click CALL if you believe the price will increase or PUT if you think the price will decrease.  The platform is designed to be super simple for anyone to easily understand and execute a trade without prior experience.
Another feature that we really like with BeeOptions is the "Trader's Choice", as you can see at the bottom of the screenshot above.  This shows you the % of traders that have selected CALL or PUT for that exact asset.  So you can easily see if other traders on the platform have the same instincts as you, or if you're going against the crowd.
Trade Types Offered
BeeOptions offers the following trade types on their platform:
High/Low – Predict whether an asset will increase or decrease in price.
Long-Term –  Same as the high/low trade, except that the expiry times are weeks or even months away.
60 Seconds – Predict whether an asset's price will increase or decrease over the next 30, 60, or 120 seconds. This is perfect for traders looking for a quick ROI on their money, or thrill-seekers that love the fast-paced trading environment.
One-Touch – Predict if you think a particular asset will reach a predetermined strike price.  This type of trade is only available on weekends and can have payouts as high as 500%.
Pairs – With this trade type, you can pair two different assets up against each other, and predict which asset will perform better.
Screenshot of Pair Trading
Payouts
You can expect an 80-85% payout for most of your high/low trades, which is about the industry standard.  For the One-Touch trades, you can reach profit levels of up to 500% though.  The One-Touch trades are generally tougher to win, but the payouts can make it well worth it.  BeeOptions also provides refund rates on losing trades for some assets and trade types.  The refund rates are typically between 0-10%.
Assets
BeeOptions has an impressive amount of assets that you can trade, giving you plenty of options to work with.   They currently have 66 stocks that you can trade from all the biggest international companies such as Amazon, Coca-Cola, Ebay, and Google.   BeeOptions features 17 different currency pairs such as USD/EUR, EUR/GBP, USD/GBP, and many more.  The selection of commodities to trade is a little limited at 7, but they have the biggest ones such as Gold, Silver, Coffee, Corn, Oil, Platinum, and Sugar.  And last but not least, they have 37 different indices from the world's top financial markets including Nasdaq, Dow Jones, Bombay SE, and FTSE 100.
Overall, they have an above-average selection of assets at nearly 130 different options that you can potentially trade and make money with.  They have a wide range of expiry times that vary for each asset which includes 60 seconds, 15 minutes, hourly, and close of the day.
Trading Tools
The BeeOptions platform offers several different trading tools and features to help you maximize your profits and minimize your losses.  Here's a description of each.
Rollover – This features allows you to extend the expiry time of your trade.  This allows you to potentially turn a losing trade into a winning trade, by giving the asset more time to reach the market prediction you set.
Double Up – If you're getting close to the expiry time of your trade and are feeling confident about your position, then you can use the "Double Up" feature to double your investment.  Your prediction and the trade's expiry time will remain the same, but the entry point will be changed to the current rate of when you selected the Double Up feature.  This gives you the ability to increase your earnings by capitalizing on a strong position.
Sell Early –  Inside the BeeOptions platform, you have the ability to sell your trade before the expiry time for a fixed price.   For example:  If it looks like the market isn't going the way you predicted, then you can sell your option for a percentage of your initial investment.  For example, you could recoup 70% of your investment by selling the option early, rather than losing 100% if the trade "expires outside the money".  Or if you have a strong position but still have an hour left in the trade, you could sell the option early and lock-in your profit at a slightly reduced payout.
BeeOptions Bonuses
BeeOptions offers a couple different bonuses and special offers to help entice clients to use their binary option trading platform.
Two Risk-Free Trades –  If you deposit $500, BeeOptions will give you 2 risk-free trades.  So no matter what happens on these first two trades, your investment is fully protected.
100% welcome bonus for first-time deposits of $1,000 or more (gold account).  You can also earn 125, 150, and 200% bonuses for Platinum, Diamond, and Executive account types.
The Verdict
There's a lot to like about BeeOptions.  We really enjoyed the user interface of their platform, as well as the different trade types that they offer.  Their minimum deposit to open an account is just $250 and their minimum trade amount is just $5.  Currently, they are accepting traders from the United States.  The only real downsides is that there is no demo accounts available at this time and no mobile trading (yet).  Whether you're an inexperienced trader or an expert, BeeOptions should be near the top of your list of binary option brokers to use.
Bee Options Review Rating = 8.5/10 = Excellent