Trade Rush Review
TradeRush is a binary option broker based out of Gibraltar and is currently one of the fastest growing companies in the industry.  They originally launched their platform in 2011 and was one of the first companies to introduce 60 second trading to the industry.  But is TradeRush a reputable binary option broker that is worth using, or just another scam?  Continue reading this review to find out.
Basic Traderush Information
Website Homepage: http://www.traderush.com/
Website Launched: August 2011
Account Currencies: USD, EUR, AUD, GBP, CAD, NZD, JPY
Traderush Minimum Deposit: $200 (or 20,000 JPY)
Mobile Trading Platform: Yes – iPhone & Android
Free Demo Account: Yes
Accepting US Traders: YES
Traderush Deposit Bonus: Yes – Up To 100%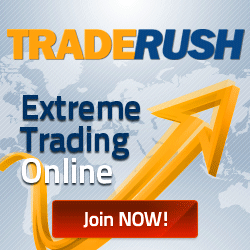 Platform Overview
TradeRush uses SpotOption as their trading platform, which is the preferred choice for most traders.  Through their platform you can trade binary options on over 100 different assets in a variety of financial markets including commodities, currencies, stocks, and indices.   They also have a mobile application so you can make trades right from your smartphone.
The user interface of this platform is extremely easy to navigate and only takes a few clicks to start trading.  They currently offer over 100 assets to trade with and several different trade types to give you plenty of options to choose from.  The trade types available on this platform include: High/Low, Option Builder, Option Pro, One Touch, and 60 Seconds.
To start trading binary options on the TradeRush platform, you just have to follow these simple steps:
Select Your Trade Type and Asset
Choose Your Expiry Time
Enter Your Investment Amount
Choose Which Direction You Think The Market Will Go (Up or Down)
Click "BUY".
It's really as simple as that.  Before you click the BUY button, you can clearly see what the current market price of the asset is as well as the profit you will gain if your prediction is correct.
Payouts

The payouts offered for your standard CALL/PUT trades are around 81%, depending on the asset.  TradeRush doesn't offer the highest payouts in the industry, but still in line with industry standards (80-85%).  They also offer refund rates on losing trades of 0-15% depending on the asset and trade type.
You can earn as much as 700% profit on the One Touch trades.  This trade type comes with preset 1-week options where the market direction and goal are already set. You have to decide whether their prediction will come true or not.  These scenarios have a lower probability of holding true, which is why the payouts can be so high as a result.
Assets
TradeRush does have a pretty good selection of assets to choose from.  Here's a breakdown of the assets they currently have available.The underlisted assets are traded on TradeRush: Currencies: EURUSD, USDJPY, EURJPY, USDSGD, USDZAR, USDCAD, USDRUB, USDBRL, GBPUSD, EURGBP. Stocks: Sberbank, Lukoil, Turkcell, Amazon, Reuters, BP, Barclays, Google, Gazprom, Nike, Citi, Microsoft. Commodities: Gold, silver only, cotton, sugar, corn, wheat, coffee, platinum, crude oil. Stock Indices: Dow, Nasdaq, FTSE100, MICEX 10, Shanghai Stock Exchange (SSE), Bombay SE, Kuwait General Index, Hang Seng, Tadwul, ISE 30 Turkey. Dax, ESX (Egypt), MSM 30, ASX, The maximum allowable exposure on a trade is $1,500. As long as this value is not exceeded, traders can purchase as many contracts as possible. Successful trades offer returns of 70-85%, while trades that expire out of the money will offer returns of 0-15%. This allows the trader the opportunity to gain back up to 15% of his invested capital even in the event of a loss. Traders can maintain accounts in Euros, British Pounds, US Dollars, CAD, AUD and Japanese Yen. Once an account has been opened in a particular currency, it is not possible to change this. Traders are therefore advised to choose this option carefully.
Deposits
Right now, TradeRush offers clients several different ways to deposit funds into their account which include credit cards, debit cards, wire transfers, and MoneyBookers.  Their minimum deposit to open an account is $200, and they are currently accepting USD, EUR, GBP, and CAD as their account currencies.   The maximum deposit amount for credit cards is $10,000 and there is no maximum amount for wire transfers.
Withdrawals
TradeRush allows you to withdraw funds from your account through the same deposit method as when you opened the account (credit card, wire transfer, or MoneyBookers).  You can request a fund withdrawal by emailing their support staff or by going to the "My Account" section of the platform and filling out a "withdrawal request" form.
There is no fee for the first withdrawal of every month.  Each additional withdrawal during the month has a $30 fee associated with it.   The minimum withdrawal amount is $30 for credit cards and moneybookers.  The minimum for wire transfers is $100.
Video Demonstration of TradeRush
The Verdict
Overall, this is a great trading platform for both beginner and advanced traders. They have great risk-management tools such as Rollover and Double Up, which allow you to extend your trade's expiry time or double your investment amount in mid-trade.  Currently, they are accepting clients from the USA and have just a $5 minimum trade amount.   If you're looking for a platform with a user-friendly interface and great customer support, then TradeRush deserves heavy consideration.
By now, you're probable wondering why TradeRush is one of our recommended binary options brokers. Ultimately, we can see the potential. It's a young brand, and despite what might seem like an average score, it continues to improve and try harder than the rest to improve and do better.
It may not shine above the rest in most aspects, but it's pretty solid in what it does do. Ok returns, good customer services, enough assets, a generally well respected length of expiry times, the complaints here are simply that it doesn't exceed, simply does it all well and solidly.
Can it improve? The withdrawal policy could certainly be a faster and more logical process, but if you want your money and you have some patience, it will eventually find its way to your trading account. Yes more languages would be welcomed, but considering that not so long ago the only language was English, they are taking considerable steps to improve. And of course, giving us a better understanding of its platform, with more comprehensive demos wouldn't go amiss, but you could argue that half the fun is in the discovery of it all.
And let's not forget those trading tools, the great web-based non-downloadable trading platform, the easy navigation and generally good trading experience.Option Builder, Pro Trader, 60 seconds and Touch Option are fantastic tools which show that this broker is not only here to stay, but likely to continue striving for perfection. What it does well, it does very well, what it does average, it strives to improve and what it does badly, is forgivable for most. What more can we ask for?
If you've been around the Binary Options trade for a while, open a free account with TradeRush. You might be pleasantly surprised in their platform and rediscover that first time joy of when you first discovered Binary Options.